Disasters and pandemics pose unique challenges to providing health care. Though telemedicine will not solve them all, it is well suited for scenarios in which medical practitioners can evaluate and manage patients without exposing the patient or the medical practitioners to viruses/infections in times of such outbreaks. Telemedicine provides patient's safety, as well as health worker's safety especially in situations where there is a risk of contagious infections. Patients with complaints of hair fall etc. need not step out of the safety of their homes in order to be assessed and receive help with such issues.
Due to increasing requests by patients new and old, HAIRREVIVE is now offering clinical consultation services via tele-medicine platform.
A registered medical practitioner is permitted to offer telemedicine services, under the Indian Medical Council Act, 1956. Telemedicine means ''The delivery of health care services, where distance is a critical factor, by all health care professionals (Registered Medical Practitioners – RMPs) using information and communication technologies for the exchange of valid information for the diagnosis, treatment, and prevention of disease and injuries, research and evaluation, and for the continuing education of health care providers, all in the interests of advancing the health of individuals and their communities.' 'A Registered Medical Practitioner (RMP) is a person who is enrolled in the State Medical Register or the Indian Medical Register under the Indian Medical Council Act 1956' (IMC Act, 1956).
RMP may use any telemedicine tools suitable for carrying out technology-based patient consultation e.g. telephone, video, devices connected over LAN, WAN, internet, mobile or landline phones, chat platforms like WhatsApp, Facebook Messenger, etc., or mobile app or internet-based digital platforms for telemedicine or data transmission systems like Skype/ email/ fax, etc. Irrespective of the tool of communication used, the core principles of telemedicine practice remain the same.
Online Consultation services at Hairrevive will be provided by Dr Sandeep Sattur and Dr Indu Sattur, who are both registered medical practitioners, enrolled with the Maharashtra Medical Council ('Doctor(s)' and all references to the term 'Hairrevive' shall be deemed to include such Doctors).
You ('User') can make an appointment with Doctors by filling out and agreeing to the online consultation and the consent form.  Confirmation of your appointment with a Doctors, as per his/ her availability, shall be sent to you via SMS and/ or e-mail. HAIRREVIVE reserves the right to reschedule an appointment without any prior notice. Consultation time provided shall be indicative and actual consultation time may vary.
Steps for online consultation

Telemedicine – Terms of Use
In order to avail Online Consultation services, you agree to:
provide your valid consent to receive such services and agreeing to the applicable terms of the consultation, by way of the consultation and consent form.
submit/ upload/ share relevant personal and clinical information with HAIRREVIVE for seeking appropriate advice related to the condition, including by way of the consultation and consent form.
submit/ upload/share all relevant, complete, and accurate information with HAIRREVIVE for availing the telemedicine services. If the information provided by you is found to be incomplete/ false/ deceptive/ inaccurate or misleading, HAIRREVIVE reserves the right to reschedule/cancel your appointment without assuming any liability whatsoever.
To be able to better assess your scalp and hair you would be needed to install applications on your mobile phone which can be used for purposes of magnification of the mobile camera image for e.g.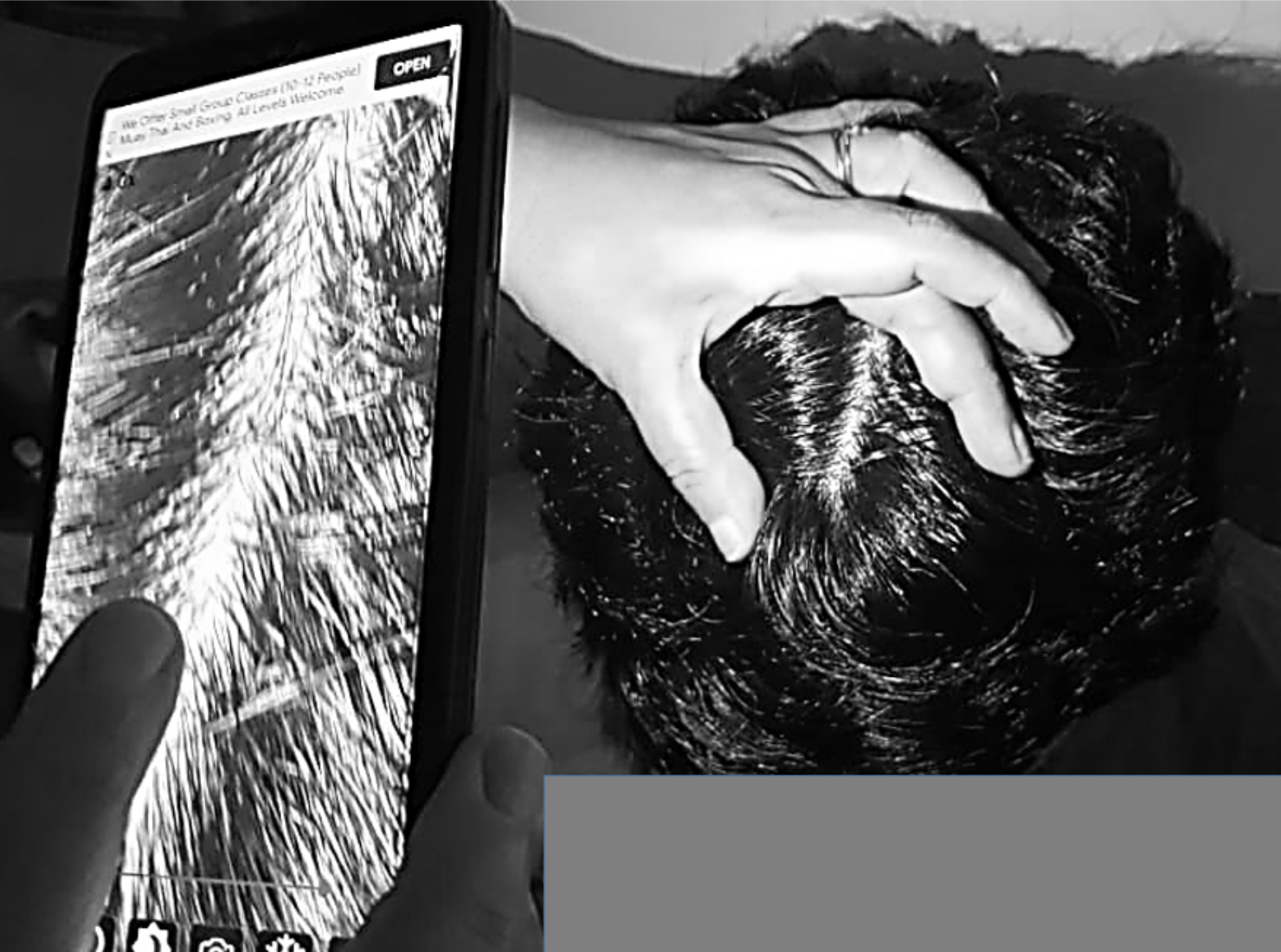 You will be needed to take pictures of your scalp using the flash with the following views – Front, both sides, back, and the top of the scalp. It is ideal if these pictures are clicked by another person. Similarly, using the magnifying app you will need to take close up pictures of your scalp of the affected areas and the back of the head. For this the phone camera will have to be at a distance of 6-8 cm from the scalp with the hair parted. Again, this will have to be done by another person so that proper focusing is possible. You will have to mail these images on drsattur@hairrevive.com.
Views for the photographs – Front, profiles, top and back

Payment, Refund & Cancellation Policy:
HAIRREVIVE offers online mode of payment, hence, you may use UPI (Unified Payment Interface) for payment of the Service Fees. The phone number for the UPI payment will be shared with you to make the payment to book an appointment.

Consulting Fees are as follows:
First consultation INR 1,500 (Rupees One Thousand Five Hundred only)
Follow-up Consultation Fees INR. 1,000 (Rupees One Thousand only) / (Valid for the same problem for three months from the first consultation)
HAIRREVIVE shall not be liable in any manner whatsoever, if incorrect or inaccurate payment details are provided by you for making the payment of the consultation fees or you use an account for payment which is not lawfully owned by you or if you permit a third party to use your password or other means to access your account. HAIRREVIVE will not be responsible for any kind of failure/delay of such payment transaction.
Refunds may be made on your request in case an appointment is cancelled by HAIRREVIVE. No refund request is admissible if you are not available at the scheduled appointment time and/ or do not connect with doctor via tele-medicine platform. Refunds may be processed within 15 working days from the receipt of a request from you.
User agrees that HAIRREVIVE, in its sole discretion, for any or no reason, and without penalty, may suspend or terminate any service to be provided to him / her (or any part thereof) or use of the services and at any time discontinue providing access to the services, or any part thereof, with or without notice and HAIRREVIVE will not be liable to the User or any third party for such termination or discontinuation of services. Upon termination or discontinuation of services for any reason, User agrees to immediately stop using the services.
LIMITATION OF LIABILITY
In no event, including but not limited to negligence, shall HAIRREVIVE, or any of its Registered Medical Practitioners (Doctors) providing healthcare using the telemedicine platform, directors, officers, employees, agents or content or service providers (collectively, the "Protected Entities") be liable for any direct, indirect, special, incidental, consequential, exemplary or punitive damages arising from, or directly or indirectly related to, the use of, or the inability to use, the mobile/internet based applications/ website or the content, materials and functions related thereto, the services, User's provision of information via the mobile/internet based applications/ website or lost business or lost end-users, even if such Protected Entity has been advised of the possibility of such damages. In no event shall the Protected Entities be liable for:
Provision of or failure to provide all or any telemedicine service by the Doctors to end-users contacted or managed through the telemedicine mobile/internet based applications/ website.
Any content posted, transmitted, exchanged or received by or on behalf of any User or other person on or through the telemedicine Mobile apps/ Website.
Any unauthorized access to or alteration of your transmissions or data; or
Any other matter relating to the Mobile apps/ Website or the Service.
In no event shall the total aggregate liability of HAIRREVIVE/ the Doctors to a User for all damages, losses, and causes of action (whether in contract or tort, including, but not limited to, negligence or otherwise) arising from this arrangement, or telemedicine facility or a User's use of the mobile/internet based applications/ website or the services exceed, in the aggregate Rs. 1,000/- (Rupees One Thousand Only) and according to the applicable laws and governing guidelines.
HAIRREVIVE/ the Doctors may retain such information collected from Users from its telemedicine services for as long as necessary, depending on the type of information; purpose, means and modes of usage of such information; and according to the extant Laws and governing guidelines.
APPLICABLE LAW AND DISPUTE SETTLEMENT
You agree and acknowledge that this arrangement, telemedicine facility and any contractual obligation between HAIRREVIVE, along with the Doctors providing healthcare using the telemedicine platform and the User will be governed by the laws of India, including the Indian Contract Act, 1872, the (Indian) Information Technology Act, 2000, Telemedicine Practice Guidelines issued by the "Board of Governors in Supersession of the Medical Council of India" and the advisories, orders, notices issued by the respective State Medical Councils and the State Governments, for providing healthcare to the needy using Telemedicine in the setting of Novel Corona Virus Pandemic, The Indian Medical Council Act 1956, The Indian Medical Council (Professional Conduct, Etiquette and Ethics) Regulations, 2002 and the applicable rules, regulations, guidelines and clarifications framed there under;
The courts at Mumbai (India) shall have exclusive jurisdiction over any dispute, claim or controversy arising out of or relating to this arrangement, telemedicine facility, any related contractual obligation or the information to which it gives access.
CONTACT INFORMATION
If a User has any questions concerning the telemedicine services, this arrangement, facility or anything related to any of the foregoing, Doctors can be reached on at the email address drsattur@hairrevive.com.
If any provision of these terms and conditions, arrangement or facility is held by a court of competent jurisdiction or arbitral tribunal to be unenforceable under applicable law, then such provision shall be excluded and the remainder of the said terms shall be interpreted as if such provision were so excluded and shall be enforceable in accordance with its terms; provided however that, in such event, the said terms shall be interpreted so as to give effect, to the greatest extent consistent with and permitted by applicable law, to the meaning and intention of the excluded provision as determined by such court of competent jurisdiction or arbitral tribunal.
No provision of this arrangement, terms and conditions, telemedicine facility shall be deemed to be waived and no breach excused, unless such waiver or consent shall be in writing and signed by Doctors at HAIRREVIVE. Any consent by Doctors at HAIRREVIVE to, or a waiver by Doctors at HAIRREVIVE of any breach by you, whether expressed or implied, shall not constitute consent to, waiver of, or excuse for any other different or subsequent breach.
YOU HAVE READ THESE TERMS OF USE AND AGREE TO ALL OF THE PROVISIONS CONTAINED ABOVE.