To schedule an in-person consultation, call us at +91-22-26136575 and our front office staff will do their best to accommodate your schedule and assist you with general questions or you can fill up the appointment form and our office staff will revert back to you.
The consultations at HAIRREVIVE are done by Medical Doctors only. The consultation would be done by any of the three doctors:
Dr. Indu Sattur, Dr. Suruchi Patil and Dr. Sandeep Sattur (or jointly) associated with our Center.
The process of consultation is critical to the successful outcome of treatment.
Event Flow during a Typical Hair Loss Consultation
The doctors at HAIRREVIVE believe that, an important aspect of consultation is educating the patients about their problem and possible treatment options. The patient is allowed to decide about the option he/she would like to opt for, after knowing the pros and cons. There is never an effort to sell a procedure to the patient.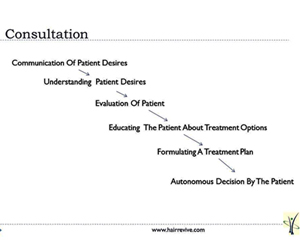 Patients will have plenty of opportunity in the consultation to ask any questions that they may have about their hair loss and its treatment.
The patient will be asked to fill out a form which will include his personal details, contact details, current complaints/concerns, past medical and surgical history and family history.
Apart from gross examination, all patients undergo trichoscopic evaluation. Those patients wanting to measure the improvement in their hair after treatment (medical) a device called HAIRCHECK is used. After detailed examination the doctors arrive at a diagnosis and discuss the possible treatment options with the advantages and disadvantages of each option.
The first consultation usually takes 20-30 minutes.
As consultations are conducted by doctors and not sales consultants (No license or degree, Sales pitch, misleading recommendations, inadequate counseling, No experience), all consultations are chargeable. The patient pays for the doctor's time, analysis and advice. Being compensated for our advice is part of the professionalism that sets the medical profession apart from the business world.
Timings for Consultation
The consultations are conducted Monday through Saturday between 11 am to 1 pm and 4 pm to 7 pm with prior appointment. If the patient wishes to see the doctors at times other than this, they could put in a request with the front desk. If it is possible they would be accommodated.
Charges for Procedures
The charges for hair transplantation depend upon the technique of donor harvest, number of grafts, disposables, service tax, and anesthetist charges. These charges are decided after the consultation. The charges include hair transplantation and consultations for six months post-transplant. It also includes four complimentary low level laser sessions.